This site is currently under construction – please visit us on at our store on eBay! http://stores.ebay.com/germanwear
We Carry an Extensive Line of High Quality, Authentic Trachten German & Austrian Clothing From GERMANY, AUSTRIA, ITALY & EUROPE. Here You Will Find Items That are Perfect for Oktoberfest or Restaurant Uniforms. We Have Brand Names Such as: GEIGER, ZEILER, GIESSWEIN, ALPEN, GOSSL, SALZBURGER, JULIUS LANG, LODEN, DISTLER, LODENFREY, PISCHL, BOGNER & ADMONT.
Our MEN's Line Includes: BAVARIAN Suit Jackets To HUNTING Coats & SWEATERS & LONG Trachten Designer COATS, Leather PANTS & LEDERHOSEN SHORTS, German SHIRTS, VEST & More. Bavarian Coats, Lederhosen & Vest With Authentic " DEER HORN BUTTONS & EMBROIDERY ". BOILED WOOL, High Quality LEATHER, LINEN & COTTON
Our WOMEN's Line Includes: Designer JACKETS, COATS & SWEATERS With HIGH QUALITY Workmanship & Material. ELEGANT Long & Short Coats, BAVARIAN Jackets, HUNTING Coats, LEATHER Jackets, BOILED WOOL, LINEN, LEATHER, COTTON Skirts, Stunning SWISS LACE BLOUSES, DIRNDLS, GERMAN & TRACHTEN DRESSES.
We Also Carry Some Styles From SOUND OF MUSIC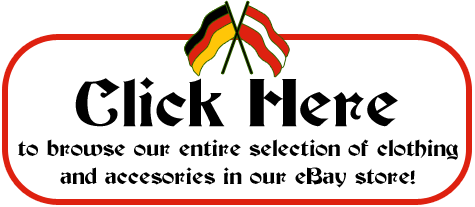 Shop Our Ladies Department:
Dirndls & Accessories
Vintage Dirndls
Jackets, Coats & Capes
Lace Blouses & Crop Tops
Trachten Dresses & Skirts
Vests | Wool, Linen & More
Petticoats & Slips
Jewelry, Belts & Aprons
Purses
Shop Our Mens Department:
Jackets, Coats & Sweaters
Lederhosen & Accessories
Lederhosen & Trachten Suits
Vests | Wool, Leather & More
Shirts, Shoes & Socks
Shop Our Miscellaneous Department: