What is the definition of a Dirndl?
Dirndls are a German style dress that has a close fitting scooped neck bodice attached to a very full skirt. They come in both short and long versions and are worn with either a crop top or a blouse. Most ladies also wear a beautiful lace apron over top of the pleated skirt.

The colors are usually rich, bold and dark to accentuate the gorgeous embroidery work that is typically woven throughout the bodice and the skirt.
These beautiful Dirndl dresses are worn for Oktoberfest celebrations, Bavarian Trachten dances, parties, club meetings, weddings as well as many other occasions. They are also worn in German restaurants by both the waitress and the hostess. You may also remember this style of clothing being worn on "The Sound of Music".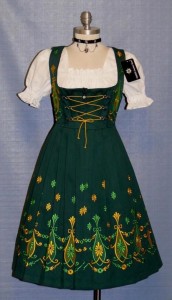 Our Dirndls are NOT costume quality however they can be worn as a costume to your next Octoberfest with great pride! Each of our Dirndls are made with the highest quality materials. The bodice area of each dress is lined and most of the embroidered dresses are backed with a material to protect the stitching on the skirt. (please check the auction listing to see if the style you have chosen has this feature) Our German Dresses are made with pride by "Dirndl Trachten Haus".
We sell our new Dirndls as a set. You will receive three high quality pieces with your purchase – a Dirndl dress, a short crop top and a pretty apron. If you would like to complete your outfit with an authentic floral head wreath we offer those as well! Each of our head bands are hand made with both flowers and leaves woven around a sturdy headband. There are also long flowing ribbons attached to the bottom of both sides to complete the look.
Please visit our eBay store to find the Dirndl that best fits your needs!